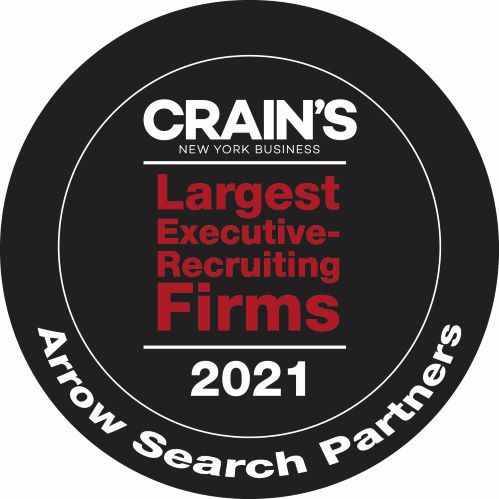 NEW YORK, March 9, 2021 – Today, Crain's New York Business revealed that Arrow Search Partners is No. 24 on its annual list of Largest Executive-Recruiting firms in the New York Metro area.
"It is an honor to make the Crain's list of Largest Executive-Recruiting firms for the first time," said Billy Merva, Managing Partner. "The past 18 months have been unprecedented times, in not just the recruitment space but all over the world with the impact that Covid-19 has had on us both personally and professionally. I am extremely proud of our dedicated staff who have persevered through the tough times and are now seeing the benefits of all their hard work. We are looking forward to the future and continued success of our business. Our goal is to keep growing sustainably to position ourselves as the top recruiting firm in New York City."
When Arrow launched in 2018, the goal was to create a recruiting firm that goes the extra mile, and this is still central to the Company's mission. Arrow's recruiters have a wealth of industry and technical expertise and are always on hand to provide the highest level of performance and service, whether they're helping someone pursue their next opportunity or partnering with talent managers to find their next superstar.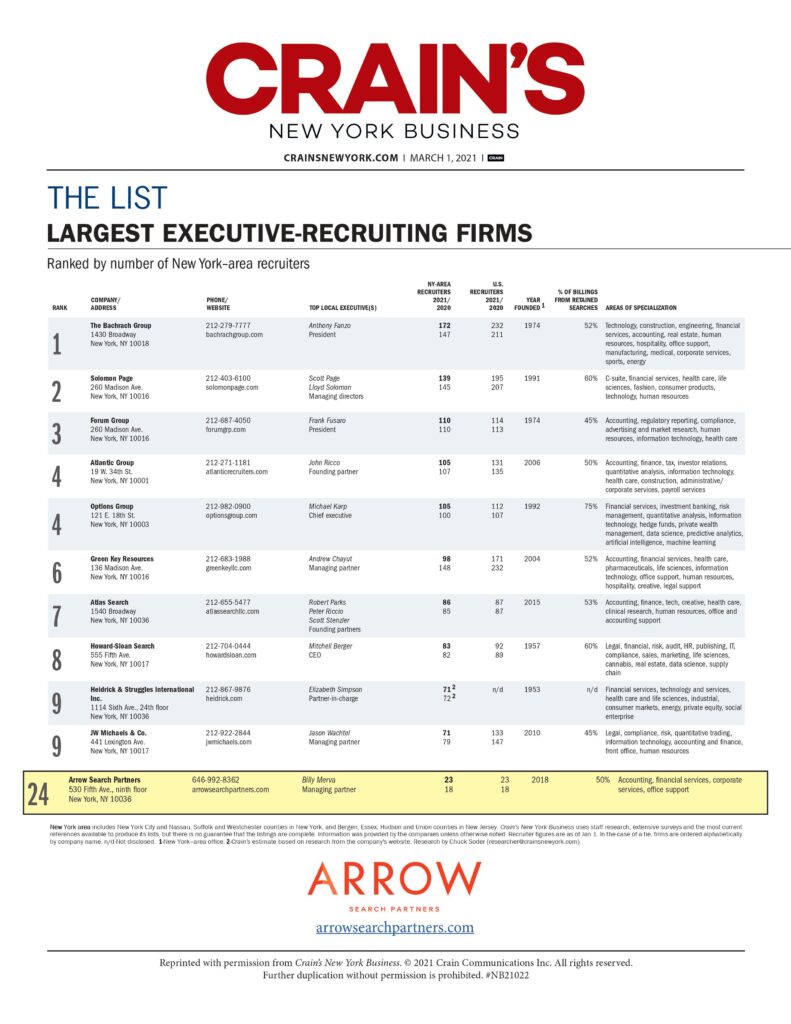 About Arrow Search Partners
Arrow Search Partners is an executive recruitment firm specializing in placements across multiple verticals within a wide array of industries. Headquartered in New York City, Arrow services clients and assists candidates all over the United States.
With over 40 years of combined leadership experience, our goal is to continually position our clients and candidates for success. For more information visit www.arrowsearchpartners.com
CONTACT:
Billy Merva, Managing Partner
About Crain's New York Business
Crain's New York Business provides news, information and connections on all facets of New York through the prism of business. Crain's is the leading source of information on the New York economy, the companies and industries that operate here, and connections between government and industry. Crain's publishes daily news coverage on crainsnewyork.com, weekly coverage in print, and three specialized online daily reports – Insider, Pulse and Real Estate Daily – providing scoops and inside information on politics, health care and real estate, respectively. Readers come to Crain's for in-depth coverage of the many industries that make up the fabric of New York's business community.